Barbados Food and Rum Festival
Local chefs and mixologists are joined by international celebrity chefs to create exciting culinary delights during the annual Barbados Food and Rum Festival!
Of course with Barbados being the birthplace of rum, no epicurean festival would be complete without this local spirit. See what goes into making the perfect Barbados Rum Punch and explore where we've been creating some of the world's finest rums for over 350 years!
2019 Festival Schedule
The 2019 festival takes place October 24th to 27th. More details will be added as they become available.
You can also check the official festival page at foodandrum.com for updates.
Best Barbados Hotel Deals
Visiting Barbados for the Food and Rum Festival? Let us help you find the perfect place to stay on the island...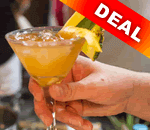 Join the Mount Gay Rum Cocktail Tour to discover the mysteries and secrets behind Barbados' finest and most celebrated spirit! Click here for pricing & bookings
Save time & money:
You won't find it cheaper online or anywhere else.
Don't be disappointed:
Book ahead to guarantee you don't miss out on the best tours & activities.