So what are the best beaches in Barbados? Of course, everyone has their favourites but here are our picks based on our own likes, chats with visitors and online reviews:
View our collections of favourite beaches to find the perfect beach for you!
---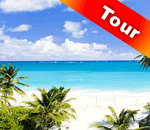 Take the 'Barbados Coastal Beach Sightseeing Tour' to enjoy the beautiful coastlines and beaches of Barbados, including some hidden gems!
Save time & money:
You won't find it cheaper online or anywhere else.
Don't be disappointed:
Book ahead to guarantee you don't miss out on the best tours & activities.
---
Best Barbados Hotel Deals
Beachfront hotels offer quick beach access, watersports and lovely sunsets. Find the one that's perfect for you...